Enjoy the Best of Both Worlds with Wood-Look Tile in Lake Charles, LA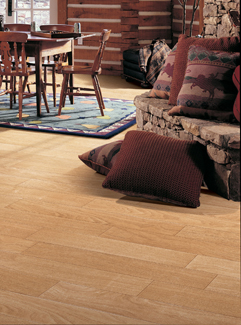 You, too, can enjoy the look of hardwood flooring with flooring that looks just like wood, but is made of tile. At the Floor Trader Lake Charles, we sell wood-look tile that combines the majestic appeal of wood with the practical qualities of tile. Our flooring warehouse in Lake Charles, LA, is well stocked with a lovely array of brand-name wood plank tile.
Hardwood is one of the most coveted types of flooring. However wood is not right for every home. With ceramic or porcelain wood tile, you have the grain and gloss of wood to enhance your décor along with the assets of tile. Make a trip to our warehouse to see our selection for yourself.
Making the Case for Wood-Grain Tile
We invite you to talk to one of our flooring experts about the advantages of wood-grain tile. We show you the actual flooring, so you can see the details that make hardwood so distinctive. With advances in technology, our trusted manufacturers supply us with tile that has the realistic appeal of wood, even down to the shape, which consists of the planks you expect from hardwood. You choose the appearance, color, and texture in a tile that brings the rich character of wood into your home. For a unique look, you can even grout between the planks.
Appearance is one of the big pluses of wood-look tile; however, there many other compelling reasons to choose this type of flooring. One is price. Tile costs less than wood. Another is performance. You can install tile in any room of your house, while wood works better in rooms where water is not in use, and the humidity levels are low. A third is performance. Tile is a hard flooring surface that lasts for years, is difficult to damage; and is resistant to water, frost, fire, and stains.
Of course, every homeowner is concerned about cleaning and maintenance when it comes to floor coverings. Rest assured our wood-plank tile is easy on both accounts. Here's how to clean: first, sweep or dry-mop the floor to remove dirt and debris. Then, follow up with a wet mop. The only cleaning product necessary is water. As tile is sturdy, there's very little maintenance required.
One of the bonuses of a tile floor is that it's hypoallergenic. This means dust mites, insects, bacteria, and viruses have no place to hide on your wood-grain tile flooring. This surface allows family members who have allergies to breathe easier.
---
Contact us today to choose wood-look tile that enhances your home décor. We proudly serve customers in Lake Charles, Louisiana, and the surrounding communities within a 60-mile radius.