Savings on Vinyl Flooring in Lake Charles, LA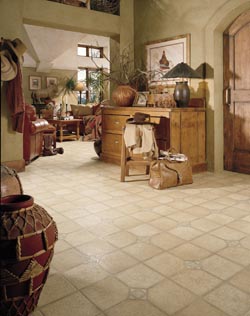 Are you ready to save money on vinyl flooring? Step into the warehouse at the Floor Trader Lake Charles for big savings -- from 20 to 70 percent on in-stock home flooring. We cut out the middleman and the frills to give you great deals on new floor coverings in Lake Charles, LA.
Our warehouse is a clean and well-organized space where it's easy to shop for new vinyl tile flooring. We carry only high-quality, name-brand floors that offer you beauty and functionality. To help you decide on the best options for your space, we staff our warehouse with flooring experts. These experts have in-depth product and design knowledge and are ready to help you find the ideal surface.
Why Choose Vinyl?
Vinyl is, has been, and will be one of the most popular flooring choices, and the reasons are varied. To begin with, vinyl costs less than many other surfaces. This works well for our customers who want to floor an entire house.
Another checkmark in the plus column is performance. This flooring is made to be tough, withstanding heavy foot traffic and resisting scuffs and scratches. Its performance extends to handling well in wet rooms in the house, such as the kitchen, bathroom, or basement.
Plus, vinyl is a kinder, gentler flooring. For example, when you drop a dish on this surface; it doesn't break. Plus, when the children and pets are running around, you don't hear loud clacking as you do with hard surfaces.
Vinyl Sheet & Plank
With truckloads of new floor coverings arriving each week, we stock hundreds of options from which to choose. How about exploring vinyl sheet flooring? These surfaces are made from layers of sturdy and protective materials with a backing of fiberglass or felt and are available in sheets of 6' and 12'.
When the truck comes in, we unload a quantity of another favorite -- vinyl plank flooring. With advanced manufacturing techniques, this surface looks just like hardwood with all the lovely details. However, this selection has a smaller price tag and needs only minimal maintenance.
So, whether your final decision comes down to vinyl sheet or plank, our warehouse is the place to shop. And, we follow up our sales with recommendations about vinyl flooring installation. Let us share our list of Preferred Installers with you because we believe professional service results in flooring you can enjoy for years to come.
---
Contact us today to ask about the brands of vinyl flooring in stock in our warehouse. We proudly serve customers in Lake Charles, Louisiana, and the surrounding communities within a 60-mile radius.