Hardwood Flooring in Lake Charles, LA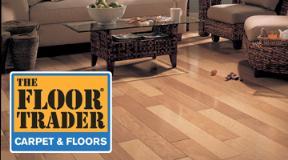 Elevating the beauty and value of your home or place of business is easy when you visit Floor Trader Lake Charles. As your source for hardwood flooring in Lake Charles, LA, we offer a wide selection of products from the leading brands. Our showroom provides a simple and streamlined approach to ordering that provides the flexibility to find the right flooring that will meet your remodeling needs. Whether you are re-flooring a single room or your entire property, our remodeling center provides the products and support you need to complete your project.
At our flooring showroom, we let our products take center stage. We are proud to offer discount hardwood flooring that allows our customers to save time and money. We have teamed up with the big names in flooring to provide a diverse catalog of solid hardwood and engineered wood flooring. A distinct feature of our process is that we don't waste resources with flashy promotional displays or marketing gimmicks. As a result, we offer a wealth of flooring selections while passing the savings to you. Our offerings are available to both commercial and residential customers.
The Hardwood Advantage
Hardwood floors are a mainstay in many homes and offices. In the interior design world, this flooring type has earned a reputation for its beauty and strength. Both solid hardwood and engineered hardwood are available in a variety of different wood species, such as mahogany, pine, and birch. On top of that, these products utilize a variety of different finishes. By investing in this flooring option, the beauty of nature will make your interior a distinct and inspiring space.
Hardwood flooring is as durable as it is visually stunning. Its dense composition allows it to withstand most bumps, impacts, and also everyday foot traffic. The brilliant finishes also give the surface stain-fighting properties. Essentially, hardwood can perform as well as waterproof flooring. Most spills clean up easily, and dust and dirt won't have the chance to stain the surface.
At our showroom, we offer the following types of hardwood floors:
Solid Hardwood
Engineered Hardwood
Hand-Scraped Hardwood
If you are unsure where to being your remodeling journey, there's no need to worry: we're here to help. Our staff of flooring professionals will work with you and discuss your flooring options, which includes going over which type of hardwood flooring is best for your needs.
Helping You Connect with Professional Flooring Installers
Enjoy a simple, easy, and streamlined approach to your next remodeling project: we are with you at each step. Our flooring center facilitates the hardwood flooring installation process by helping you find qualified and skilled installation contractors near you.
Through the power of the Floor Trader Preferred Installer Network, completing your project has never been simpler. We help you connect with professional flooring installers in the area. Members of our network are experienced in installation services. So whether you are remodeling a single room or your entire home, we have you covered.
On top of that, you pay the installer directly and won't have to worry about hidden fees. It's all part of our commitment to ensure you receive the best possible service at a fraction of the cost of other flooring stores.
Contact us to learn more about our selection of hardwood flooring. We proudly serve commercial and residential customers in Lake Charles, LA.