Carpet Flooring in Lake Charles, LA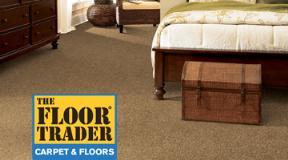 Make your home more comfortable and inviting by choosing our luxurious carpet flooring in Lake Charles, LA. At Lake Charles Floor Trader, we provide a variety of carpet options to add a feeling of warmth to your property. Our carpets have high-quality fibers and materials and work perfectly in living areas, bedrooms, and offices.
Carpet is softer than other surfaces, making it ideal for families with young children or daycare centers. Visit our carpet store to explore our vast collection of carpet surfaces and to feel the comfort and softness it provides for your home or business.
Countless Design Options
One of the main advantages of choosing carpet for your property is the near-limitless design possibilities it provides. Our carpet store carries options in countless colors, patterns, and textures. This means you can easily find a surface solution that accentuates your existing décor or becomes the basis of a whole new look.
Additionally, if you are unsure of what appearance you want for your new flooring, our professional flooring experts are here to help. We work with you to determine the goals you have for your new flooring surface and can provide solutions that will help you achieve the vision you have for your home or business. We can also work within your budget by offering you affordable discount carpet flooring.
Dedicated to Comfort
At Floor Trader Lake Charles, we are dedicated to helping you find the right carpet solutions to make your home or business more comfortable. That is why we offer some of the industry's top carpet brands, including:
Landmark™
Mohawk™
Beaulieu™
Magic Fresh™
Resista™
Tigressa™
Whether you are looking for nylon, polyester, Berber, Frieze, or Saxony carpets, our store has the right surface for your property. We even carry indoor-outdoor carpets so that you can add a soft texture to your patio or deck. To learn more about the brands and styles we have to offer for your carpet solution, reach out to our flooring experts.
Professional Installation
When it comes time to install your lush new carpet, trust us to provide you with our Preferred Installer list. These experienced and skilled carpet installation technicians ensure that your new surfaces look amazing in your space and that your carpets will last for years. To correctly install your new carpet throughout your home or business, the installers we recommend will work efficiently and professionally.
Contact us when you are looking for new carpet flooring for your home or business. We proudly serve Lake Charles, LA, and the surrounding areas.